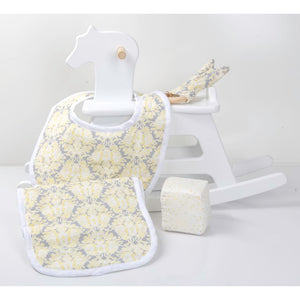 This adorable 4 Piece Gift Set Yellow Damask fabric perfect for the summer. This set includes the following items:
Teething Ring (4.7"x2.3"), Block toy (2.5"x2.5"),
Baby Bib (11.5"x9.7"), Burp Cloth (18.5"x8.5").
Weight: 5.2oz
Available in any embroidery to make this a special gift for any occasion.

Machine Wash and Dryer Safe.