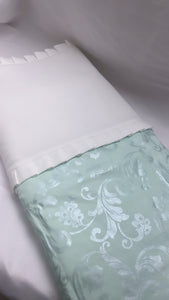 Our neutral and Stylish, lightweight soft Mint shimmer and our royal pique white fabric blanket is a perfectly neural blanket bordered with a matching fabric edge.
Serves as a handy accessory for your stroller or crib.

Size: 28" x 34"
Weight : 9.4oz
Good for All Seasons.
Machine Wash and Dryer Safe.